Link Copied!
Commercial Spotlight: Cinematographer Simona Susnea
Cinematographer Simona Susnea traces her career behind the camera back to an early interest in journalism, which in turn opened the door to still photography.
Cinematographer Simona Susnea traces her career behind the camera back to an early interest in journalism, which in turn opened the door to still photography. Segueing into moving images, she went to film school in her native Romania and then continued her education at the U.K.'s National Film & Television School, where she earned her master's in cinematography. Since graduating, she's made London her base of operations, notching a steady stream of credits in music videos, shorts, documentaries and commercials.
Among her most recent commercial work is a 60-second spot made for cosmetics company The Body Shop and charitable organization End Youth Homelessness in partnership with U.K. broadcaster Channel 4. The commercial is part of a larger project, titled "Unseen Kingdoms," that combines spoken-word poetry with intimate studies of young women and their personal experiences with homelessness. "It's a really important campaign," Susnea notes. "It's all doc-style with real people, no actors whatsoever."
Susnea shot "Unseen Kingdoms" over four days, two each in Bristol and London, working with co-directors Andrea Kurland and Daisy-May Hudson. Kurland is editor-in-chief at Huck magazine and editorial director at TCO London, while Hudson had previously directed the acclaimed documentary Half Way, which charted her own experience with homelessness. "They had really good synergy," Susnea says. "Andrea was more the creative director, and Daisy-May focused on working with our [on-camera] contributors. It was a great approach."
Panavision recently connected with Susnea to discuss her experiences capturing the project in large format with the Millennium DXL2 camera system.
Cinematographer Simona Susnea, captured on DXL2 with a prism in front of a 50mm Primo 70 prime.
When did you first begin working with Panavision?
Simona Susnea: I was back home in Romania, about to graduate from film school, and I was lucky to be one of the last people to go to the Budapest Masterclass that Vilmos Zsigmond [ASC, HSC] was organizing. I was there for about two weeks, at Korda Studios, and it happened that Lee Mackey brought the camera equipment from Panavision London. I loved the cameras, and it was my first time trying anamorphic on film. When I came to the U.K., I reached out to Lee, and Panavision helped me over the course of my time at the NFTS. Working with Panavision, the collaboration isn't just based on a technical conversation. They're excited to hear about the project, which I really love. You know you're going to a place where they appreciate your work — plus they have the best kit and the best glass.
What led to the decision to shoot 'Unseen Kingdoms' with DXL2?
Susnea: It just so happened that before I was confirmed on the job, I had booked a test with the DXL2, so it was a bit of serendipity. We went through different lenses, shooting with ambient light, and ISO tests. The base sensitivity is 1600, and after doing the test, I knew I could push the ISO to 4000 and still get very good results.
Having the test beforehand made me feel confident taking the camera into a scenario where I knew there wasn't going to be a lot of time. I knew I could trust it. A lot of the people we were working with feel quite uncomfortable when you light them; I was able to see what the light was doing in the space, be confident that I could push the ISO, and get all the coverage in a small amount of time. We shot everything either handheld or on Steadicam, and it worked really well.
Also, coming from photography, I love large format, and I felt it was going to be good for enhancing the faces of our characters, which was very important. The combination of Panavision glass on large format was really exciting.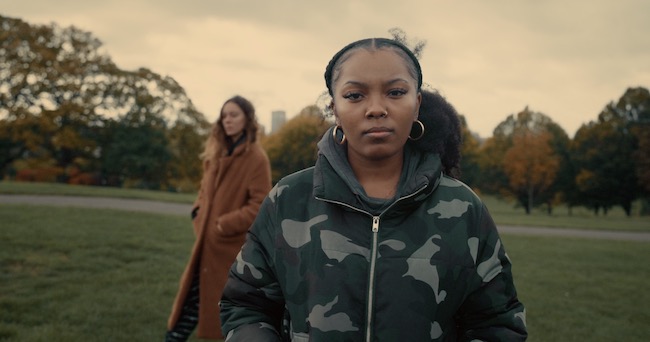 You paired the camera with Primo 70 lenses?
Susnea: Yes, we had a full set with us. There's something modern but also something vintage that I love about their look — almost no distortion, beautiful warm highlights, the flares are really nice. The way they render highlights feels modern to me, but not plastic. It has an organic feeling that's very pleasing and very similar to what I see with my eyes, but it still has a sharpness that I appreciate. They hit the sweet spot between soft and sharp, which can be harder to get with vintage lenses unless you're at a particular T-stop. But with the Primo 70s, I wasn't locked into having to shoot at T4; I could go to T2, and I loved that freedom, especially since I had very little control of the lighting.
What was your collaboration like with Andrea and Daisy-May? How were they sharing or divvying their work?
Susnea: Andrea came up with the concept for 'Unseen Kingdoms.' We went through all her references, I presented mine, and then I created a mood board. On set, our communication was more related to camera angles and the types of shots we wanted to get, and with Daisy-May, it was more about her experience in documentary. How do we get the best from the people on camera? What is our approach so they don't feel intimidated? With one of the girls, when we arrived, she was like, 'Oh my god, you guys have so much equipment!' And we were thinking, 'We have so little equipment!' So with Daisy-May, it was about making sure people felt comfortable in front of the camera and that the technical details, like changing a battery or changing a filter, didn't stop the flow of the shoot. We wanted to create an intimate exchange between the women and the camera so that the piece would have a heightened emotional quality.
What were some of the references that you and Andrea had on your mood board?
Susnea: Our main one was Fish Tank because we wanted this handheld feeling to the whole piece. Andrea loved that reference and how close the camera would get to the character — the camera has a life of its own. I love shooting handheld, and that's one of my favorite movies, so I was very on-board with that idea. It was about understanding the language of the camera and how free it could be, and capturing different actions in front of the camera without interrupting them to get coverage from multiple angles. The camera was in the moment with the person. So Fish Tank was our main reference in terms of camera style, and then there's a documentary called Paris Is Us, which was shot in very low light. I love that feeling of going into a location, and it's just you and the camera and these people, and you tell the story. That piece really stayed with me.
Did you tend to favor any particular focal lengths?
Susnea: From the test, the 35mm was one of my favorite lenses. There was no distortion on the face, and you could still get a really nice context behind the person — you can see where they are. If we were shooting dance, we could get close on somebody's portrait and we could get wider and have some really nice vistas with the 35mm. So the 35mm was one of our main lenses, and we also used the 50mm a lot, the 80mm for tighter shots, and the 65mm at times.
Susnea operates the DXL2 on location in London. (Photo by Benjy Kirkman.)
With the lower light levels, did you tend to be fairly wide open with the aperture?
Susnea: For interiors, I was usually between T2.8 and 2.8½. I wanted to see the context the person was in; I wanted to see the environments. Especially when we were on the 35mm shooting at T2.8, we'd still get some feeling in the backgrounds. In the dance studio when we were shooting on Steadicam, we just had natural light coming through windows. I had NDs on the camera, and I was shifting the T-stop between T2.8½ and wide open in some moments when the Steadicam got closer to her face or if she went into a darker corner. I had a hand unit, and I'd open up a bit if we were on a close-up and then stop down for the wider moments.
Were you adjusting the ISO depending on the environment?
Susnea: Yes, a lot. For exteriors, we were between 500 and 1600, and interiors were between 600 and 4000. We could go into these spaces and get really good results using only natural light. Even when there was noise, it had an organic look. I loved the feeling of the images.
I didn't feel much of a difference when I was underexposing at 1600 or 4000. There's one shot in particular that was 2500, it was quite low light, and when we brought it up in the grade, it looks beautiful. It has such a nice, filmic quality. That's something I'm interested in experimenting with now, playing with underexposure and how much you can push your camera. When you're shooting documentaries, you have to deal with a lot of different lighting scenarios, and you have to embrace whatever comes your way. I love the DXL's response in low light.
This image was captured with an ISO of 2500 at 6K resolution, with a 65mm Primo 70 on the DXL2.
Did you record simultaneous proxies with the DXL2?
Susnea: That's another reason I love the DXL. I've had the experience before of needing an entire DIT station traveling with us to do all the transcoding, but for this, because we were filming in people's houses, I needed to have a really small team — it was just focus puller Benjy Kirkman, loader Jakub Rogala, and Steadicam operator Charlie Rizek. We shot between 6K and 8K, depending on what focal length I was using, and we used the proxies for editing. I love that you can do that.
From left: 1st AC Benjy Kirkman, loader Jakub Rogala, and Susnea. (Photo by Benjy Kirkman.)
Was there a scene or a shot that you're particularly pleased with?
Susnea: Usually when I shoot, I try to use a ¼ or a ½ Pro Mist; I just love the softness of it. But I felt for this project that it would have glamorized the topic, which I found inappropriate, so I decided I wouldn't use filtration on the camera. We did a small dance scene on a hilltop where you can see the whole view of London, and we were shooting at sunrise, so we had this intense sun right into the lens. I felt a bit nervous without that Pro Mist filter, which can make that bright light more organic. I thought their faces would be too dark and we wouldn't be able to see that much. But when we were grading the footage, we were surprised by the dynamic range and how much detail there was in their faces and into the sun, even when the sun is directly into the lens. We actually had to bring down the level on their faces in the grade to create more contrast and separation!
Susnea captures the action at sunrise. (Photo by Marina Lewin.)
Images courtesy of Simona Susnea.