Link Copied!
Christian Sprenger Turns To Panavision To Create Super Spots
The cinematographer pulls back the curtain on his recent commercial work.
Cinematographer Christian Sprenger was busy this winter, shooting not one but two commercial spots that debuted during Super Bowl LIII. For TurboTax Live, he shot a series of commercials and a teaser leading up to "RoboChild," which shows that robot A.I. isn't ready to replace live CPAs. And in the celebrity-filled "Not Everything Makes the Cut" for Amazon's Alexa and its surrounding teasers, he shot a variety of situations where Amazon Alexa integration failed miserably. With so much on his plate, Sprenger turned to Panavision Hollywood as his one-stop camera shop.
What led you to choose Panavision's DXL2 for the TurboTax Live "RoboChild" spot?
Sprenger: The director was very insistent on shooting anamorphic, which I was super excited about. I also knew that there would be a lot of VFX and paint-outs. I felt like Panavision's Millennium DXL2 was the best option for shooting a visual-effects-heavy, anamorphic project. I hadn't done a DXL2-anamorphic job yet, and I thought this would be a great time to put it to the test. It proved to be the right choice!
What lenses did you pair with the DXL2?
Guy McVicker [Manager, Technical Marketing & Optics] at Panavision Hollywood suggested the G Series anamorphic primes because they had some interesting characteristics without too many lens aberrations so that visual effects wouldn't have problems matching properly. Because it was a longer job and we were filming with two cameras, Panavision ended up building us a combination of T Series and G Series to build the set out, which allowed me to share one lens set for two camera bodies.
How did the mix of T Series and G Series optically work for you?
The Ts are more modern and slightly sharper. There were times where we'd put on a G and see a nice bit of softness and a little more blooming. But, in terms of flare color, skin tone, and edge-to-edge sharpness, I felt that they matched close enough that it wouldn't be a concern. What's nice about Panavision's optics is the effort and pride they put into the different lens series. Even if the lenses are from different time periods, they still have that Panavision stamp, that consistency. They all fit together in the world of Panavision optics.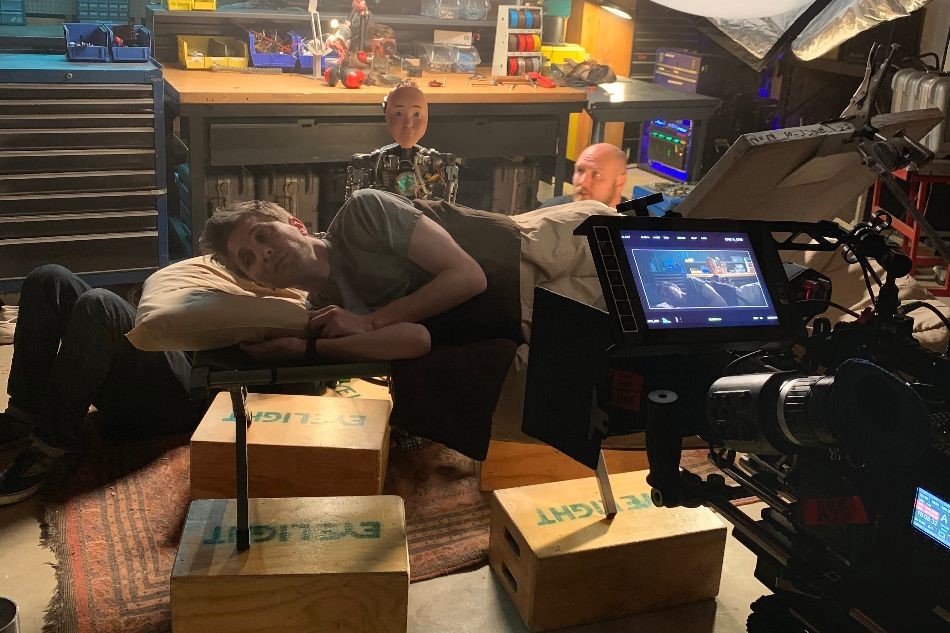 Did you shoot tests beforehand?
For TurboTax Live, we had very little prep time. I had a couple of phone calls with Guy at Panavision, and then we pulled the trigger and went for it with only a short day to get to know the camera system. Panavision did a great job of preparing everything for us. I think they built a hell of a camera, and we had really no problems with the DXLs whatsoever. They were rock-solid camera systems and rock-solid optics.
What look were you going for in terms of the look for the "RoboChild" spot?
The teaser leading up to the Super Bowl takes place at night—it's dark and moody, and I was working in low-light levels with a wide-open stop on the lens. The dynamic range of the DXL2 paired effortlessly with the anamorphic optics, resulting in a naturalistic and smooth image. For the Super Bowl spot, I wanted the daytime garage workshop to feel realistic and not over lit. I shot around an f2.8/4, which felt like the right sweet spot for the lenses' optical performance, and because the DXL2's 8K VV sensor was larger than Super35, the depth of field appeared shallower than on a S35 sensor.
Did you take advantage of the DXL2 on-set workflow capabilities?
Our incredible DIT, Matthew Love, had a lot of previous DXL2 experience. We started out using the proxy setup—the DXL2 has the ability to record proxies—but Matt felt like his system was capable of just handling the RAW. So, we discarded the proxy workflow and just colored off the 8K RAW, using LiColor2 off the camera for viewing and lighting purposes and then importing the files into DaVinci Resolve. Matt and I used a modified version of the DXL color LUT. We would adjust color and create all our dailies on set. At the end of the night, we'd hand off the drive. From my perspective as a cinematographer, it felt like a flawless workflow.
For the Amazon Alexa "Not Everything Makes the Cut" spot, you ironically switched to a Panavised ARRI ALEXA platform. Because you shot anamorphic, which lenses did you choose?
Just coincidental! The full-frame ALEXA LF shoots at 4.5K resolution in anamorphic [Open Gate mode]. Guy expanded the focal lengths of our anamorphic lenses to properly cover the full-frame sensor size. I really liked the G Series that I used on the TurboTax spot and chose them again. They have a perfect balance—they are somewhat visually similar to the C Series but with modern upgrades and closer to the physical design of the T Series. The Gs can be customized, but the Cs cannot. Over a couple of weeks of testing, we came up with a really nice combination. Because the G Series only goes up to 100mm, we used a 135mm T Series for a few shots.
What were you wanting to achieve with the custom tuning?
We wanted to adjust the contrast and black levels to emulate filtration that I would use in front of the lens. When it's baked into the lens optically, I feel it performs differently than having a piece of glass in front of the anamorphic front element. In addition to that, Guy made an adjustment, which produced blooming of the highlights and created some interesting optical irregularities. Guy also introduced me to their AFA, or Anamorphic Flare Attachment—an additional external front element that can adjust or exaggerate the anamorphic effect when appropriate.
What sticks out for you in these spots?
For TurboTax Live, the coverage of RoboChild at night in the teaser, to me, was the result of the perfect camera and lens technology at work. The dynamic range of the DXL2 at such low-light levels paired effortlessly with the anamorphic optics in a very naturalistic and smooth way. For the Amazon Alexa spot, the scenes in space felt like such a great reason why I chose the equipment that I did. The lenses provided the perfect amount of character without causing any trouble for the VFX team, who would be adding a lot of digital elements to our image in post. I was really pleased with where we ended up!